Thursday, June 30, 2011
PITTSBURGH -- Burt Watson (pictured in the background), the man who you've seen directing traffic at weigh-ins, works tirelessly to keep things running well at UFC events, and he was rewarded with a chance meeting in Pittsburgh. The UFC's main behind-the-scenes man met President Obama while both were at the fighters' hotel, and told his tale to Cagewriter.
The Hyatt Regency in Pittsburgh hosted both the fighters and the president, who was in town to make a speech at Carnegie-Mellon University. Because of Obama's presence, security was tight around the hotel. Watson's room was near the fitness center, so his room had to be checked by Secret Service before the president could go in and do his daily workout. Watson's room was swept by bomb-sniffing dogs and Secret Service agents.
After the sweep, Watson had to turn on the sauna to ready it for fighters. When he entered the fitness center, he saw the president, and asked if he could go in.
"I opened the door, and there was President Obama, pedaling on a bike and reading the newspaper," Watson said. "I started shaking a little bit. There was no one else in the room."
Because of his job with the UFC, Watson has met a who's who of celebrities, but was still blown away by getting to meet Obama.
"I don't get starstruck, because I work with celebrities all the time. It's not my job to get starstruck, but I was dumbfounded. I walked towards him, reached out my hand and said, 'What's up?' He said, 'How are you?' I said, 'Right now? I'm honored.' And he said, 'Nah, I'm honored.' And as I walked out, I thought, 'Oh [expetive]! Did I just walk out of the room with the president of the United States? Me and him!"
He said that the enormity of the situation didn't really hit him until later.
"Not until I walked out of there did it hit me that I was literally one-on-one with the most powerful man in the world. History has a way of making you a part of it without even asking. Never in my wildest, wildest dreams did I imagine that I would meet the President of the United States."
Watson's calm, upbeat demeanor serves him well in his job as the behind-the-scenes man for the UFC. Working for the promotion since UFC 31, he has seen nearly everything the fight world can muster and has taken it in stride. This was different.
"For the first time, I was in awe."
Source: http://sports.yahoo.com/mma/blog/cagewriter/post/UFC-s-behind-the-scenes-guru-gets-chance-meeting?urn=mma-wp4064
Mark Hunt Brad Imes Enson Inoue Takeshi Inoue Tokimitsu Ishizawa Wallid Ismail Darren M Jackson
Wednesday, June 29, 2011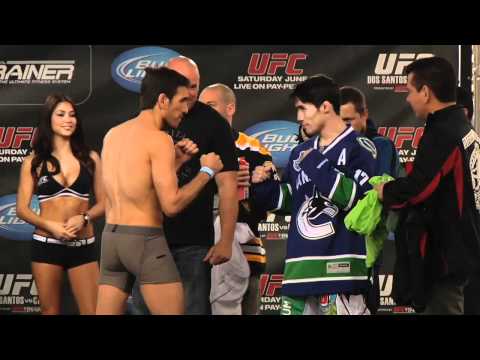 Tomorrow night, Kenny Florian will make his featherweight debut as he takes on Diego Nunes at UFC 131
Source: http://mmalice.com/ufc-131/ufc-131-weigh-in-highlight-florian-v-nunes-video_dbd951e65.html
Georges St Pierre Matt Serra Jens Pulver Sean Sherk B J Penn Frankie Edgar Ken Shamrock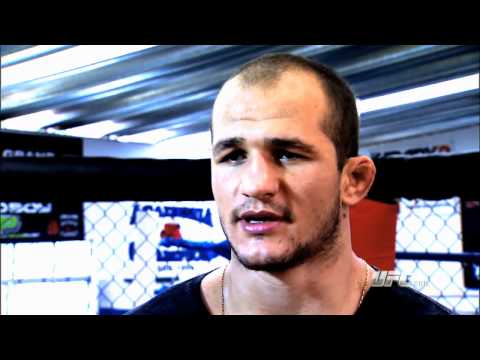 Heavy-handed Junior Dos Santos steps back into the Octagon? against a man considered to be an equally dangerous striker, Shane Carwin. Will Junior's speed advantage be enough to hand Carwin his first KO loss? Watch UFC 131 Live on Pay-Per-View and www.UFC.tv on Saturday, Jun 11th at 6/9PM PT/ET.
Source: http://mmalice.com/ufc/junior-dos-santos-interview-video_8d42cdb57.html
Keith Hackney Matt Hamill Volk Han Joachim Hansen Antoni Hardonk Dan Hardy Lee Hasdell
UK promotion BAMMA are set to deliver their seventh event on September 10th and their card has been bolstered by the inclusion of a former TUF winner. Efrain Escudero (16-3 MMA) was only the second TUF winner in the organisation's history to be released after losses to Evan Dunham and Charles Oliveira back in September [...]
Source: http://feedproxy.google.com/~r/mmahq/main/~3/7oRok-icIlo/
Mike Plotcheck Ross Pointon Trevor Prangley Daniel Puder Jens Pulver Mike Pyle Nathan Quarry
Following a busy weekend loaded with MMA action, MMAjunkie.com Radio takes a look backs at UFC on Versus 4, Bellator 46 and Strikeforce Challengers 16.
Additionally, UFC on Versus 4 winner Ricardo Lamas calls in to recount his octagon debut victory.
MMAjunkie.com Radio airs from 12-2 p.m. ET (9-11 a.m. PT) live from the Mandalay Bay Resort & Casino's Race & Sports Book. Listen to and watch a video stream of the two-hour show at
www.mmajunkie.com/radio
, or watch it live on select television markets as part of Fight Now TV.
Source: http://feedproxy.google.com/~r/mmajunkie/~3/sV-H8K1GqFg/mmajunkie-com-radio-ufc-on-versus-4-winner-ricardo-lamas-weekend-mma-round-up.mma
Clay Guida Jason Guida Melvin Guillard Cody Guinn Jorge Gurgel Andre Gusmao Alexander Gustafsson
Kenny Florian on Cut to Featherweight: 'I've Never Felt Better' Video by UFC 131
Source: http://mmalice.com/ufc-131/kenny-florian-on-cut-to-herweight-ive-never-felt-better-video_8d2dac0f1.html
Dennis Siver Kestutis Smirnovas Jimmy Smith Maurice Mo Smith Patrick Smith Scott Smith Renato Babalu Sobral
<B>By MATT BOONE<BR>
MMANEWS.COM Staff Writer</B><BR><BR>
According to numerous sources, MMA legend Ken Shamrock and professional boxing legend James "Lights Out" Toney have agreed to fight each other at a local mixed-martial arts event in El Paso, Texas on September 23.<BR><BR>
The fight, which will be a heavyweight MMA attraction, will be Toney's second MMA bout, his first being the infamous loss to Randy Couture in the UFC.<BR><BR>
More details as this story develops.<BR><BR>
Leave your feedback on this article by posting a comment directly below! You can also chat about the card in the <A HREF="http://www.mmanews.com/forums" target="_Blank"><B>MMANEWS.COM Forums</B></A> and/or the <A HREF="http://www.facebook.com/mmanewsdotcom" target="_Blank"><B>MMANEWS.COM Facebook</B></A>. If that wasn't enough, MMANEWS.COM is now on Twitter as well <A HREF="http://twitter.com/mmanewsdotcom" target="_Blank"><B>@mmanewsdotcom</B></A>.<BR><BR>
Source: http://www.mmanews.com/home.php
Evan Tanner Peni Taufa ao Thiago Tavares Paul Taylor Glover Teixeira Tra Telligman Ivan Titenkov
Going for the kill can be a double-edged sword. Pat Barry found that out last night against Cheick Kongo. The Frenchman in absolute survival mode landed a right hook and a right uppercut to pull victory from the jaws of defeat. Kongo left Barry on the ground with the dreaded stink eye.
Referee Dan Miragliotta was all over both fighters and came close to stopping the fight on at least one occasion, but Kongo kept moving and scrambling.
During the postfight press conference, Barry wouldn't blame Miragliotta..
"I can almost recall Dan Miragliotta's leg almost touching my arm, he was so close," Barry said during the UFC on versus 4 postfight press conference. "So for a split second, a split second I thought 'this is it.' The way he was falling around. I've seen fights get stopped before. This looks like a fight that would get stopped. [...] That didn't cause me to stop."
Give Miragliotta credit, he let the fighters decide the ultimate outcome.
How badly was Barry knocked out? When he "woke up," Barry thought he'd won.
"I've never been knocked out before, so this is a weird feeling man to lose two minutes of your life. Honestly, when I was laying on my back and (coach) Marty Morgan was standing over me, the first thing that came out of my mouth was, 'Yo man, I killed him!' So I thought I had won the fight," Barry told Sherdog. "I don't remember nothing. I remember the entire fight up until I got punched."
It was also a no-brainer for Knockout of the Night. Kongo banked an extra $50,000 for his efforts. This has been an amazing year for sick knockouts.
Source: http://sports.yahoo.com/mma/blog/cagewriter/post/Another-KO-of-the-Year-candidate-Barry-won-t-bl?urn=mma-wp4076
Yoshihiro Akiyama  Gilbert Aldana  José Aldo  John Alessio  Houston Alexander Ricardo Almeida  Eddie Alvarez
LAS VEGAS - The oft-criticized Steve Mazzagatti will handle officiating duties for July's Dominick Cruz vs. Urijah Faber UFC bantamweight championship bout.
The decision was made at today's Nevada State Athletic Commission monthly meeting, which took place at Las Vegas' Grant Sawyer State Office Building and was attended by MMAjunkie.com.
Additionally, judges Patricia Morse-Jarman, Glenn Trowbridge and Sal D'Amato were selected as attending judges for the UFC 132 headliner, which takes place July 2 at Las Vegas' MGM Grand Garden Arena and airs on pay-per-view and Spike TV.
Source: http://feedproxy.google.com/~r/mmajunkie/~3/91JxLM5q5js/steve-mazzagatti-oversees-ufc-132s-dominick-cruz-vs-urijah-faber-headliner.mma
Renato Verissimo Marcus Vinicios Falaniko Vitale Igor Vovchanchyn Anthony Walsh Wang Guan Wang Sai
Tuesday, June 28, 2011
Bellator's first-ever "Summer Series" event, Bellator 46, drew an average audience of 185,000 viewers to this weekend's MTV2 broadcast.
The event marked a steep decline from the promotion's record ratings at Bellator 44 and Bellator 45 to close season four but fell right in line with the season's other nine events, which each averaged 184,222 viewers.
MMAjunkie.com today obtained the figures from industry sources.
Source: http://feedproxy.google.com/~r/mmajunkie/~3/cryuV-ExYRk/bellator-46-ratings-summer-series-debut-nets-185000-mtv2-viewers.mma
Josh Thomson Din Thomas Gleison Tibau Anthony Torres Miguel Torres Roberto Traven Frank Trigg
Source: http://feedproxy.google.com/~r/TracyLee/~3/_SAirxxNvG4/so-how-much-is-this-program-worth-as-a-collectors-item-now.html
Mirko Cro Cop Filipović Luiz Buscapé Firmino Spencer Fisher Jon Fitch Kenny Florian Jesse Forbes Xavier Foupa Pokam
KJ Noons is a pretty well-regarded striker, but he met his match on the feet in Jorge Masvidal. He played Noons' game and virtually destroyed him over the course of the first two rounds. By the end of the fight, Noons' was bleeding everywhere and had a huge hematoma on his forehead. Masvidal rolled to a unanimous decision victory, 30-27 on all cards, in a 155-pound bout at Strikeforce in Dallas.
"KJ was more aggressive. He made more openings happen. He's a good striker, but I'm a bad style for him," Masvidal said. "I'm a good counter fighter. I felt comfortable striking with him."
Noons (10-3) has picked apart just about everyone down at 155, but Masvidal's jab was something he couldn't defend himself against. Masvidal (22-5) also did some great work with his knees.
A first round round knee split open Noons' forehead. The hematoma on the right side of his head nearly had his right eye closed at the finish of the fight. Masvidal outlanded Noons 102-57. He was good on 53 percent of his strikes. Masvidal also delivered on six-of-nine takedown attempts.
Masvidal made a real statement to Strikeforce. The 26-year-old may deserve a shot at Strikeforce 155-pound champ Gilbert Melendez.
"You're not going to see me getting on my knees or something, but if [Strikeforce CEO] Scott Coker wants to give me the shot, I'd be more than happy," said Masvidal.
Masvidal then wished the fathers in attendance a happy Father's Day and said he'd love to get a present.
"I gave myself the best gift," said Masvidal, who has two kids. "Hopefully Scott Coker can one up me and give me the title shot."
Source: http://sports.yahoo.com/mma/blog/cagewriter/post/Masvidal-brutalizes-Noons-in-pulling-the-upset-a?urn=mma-wp3680
Patrick Speight Mario Sperry Pete Spratt Brian Stann Aaron Stark Kalib Starnes Joe Stevenson